Oligarc
Extraordinary Effects Suite
Oligarc is a collection of four world class audio effects, tied together by a set of modulation sources that can act on various parameters of each effect.
Oligarc can be an LFO-driven filter, an envelope-controlled phaser, a gate-triggered saturation effect, or anything else you can think up, including mad combinations of linked modulation of multiple effects at once.
Speaking of filters, its the full analog ladder filter from our celebrated Olga Synthesizer, featuring nonlinearity and self-oscillating resonance.
Oligarc excels at gentle, tasteful ear-candy. But if you're weary of tame effects, Oligarc's underlying DSP structures also perform correctly at extreme settings far beyond the sensible limits we might have confined them to, the upper range of each knob opening a vast palette of creative, transformative and dangerous sound.
More than just the ideal experimenters' tool; Oligarc's output module and capacity for static phasing make it indispensable for numerous constructive and corrective studio tasks.
Includes easy to use separates
The Oligarc package also includes standalone plugin versions of the core modules, giving easy and immediate access to their more traditional uses – although we don't think there's anything traditional about these effects!
Oligarc Drive is an analog saturation effect; sweet and musical in moderation but gloriously naughty when abused.
Oligarc Phaser is a very special beast – you haven't heard a plugin phaser like this before. More than just an emulation (though presets covering the cream of classic analog phasers are provided) this is an imagining of what an analog phaser should sound like.
Oligarc Chorus is a unique chorus plugin, tailored to give maximum potential lushness with the minimum of distracting cyclic repetition effects.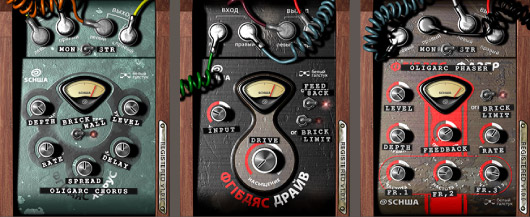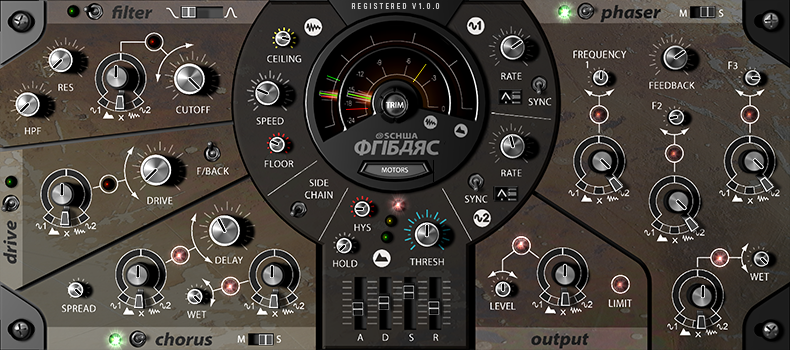 * The "Drink This" demo song starts with the dry instrument sounds used in the rest of the mix. The "synth" sounds were created with a test tone generator. The only effects used are Oligarc, a basic delay and compressor.
** Dimitar's guitar was recorded direct. No guitar amp or amp simulator was used, just Oligarc.
Modular Effects
under unified control
Great sound deserves great control, and Oligarc will not disappoint on either count. A variable speed envelope follower and a gate-triggered ADSR envelope both respond to the incoming audio (or that of the sidechain) to act as modulation sources for the major effects parameters. If you need cyclic modulation we've provided two independent LFOs with a range of shapes and optional project tempo sync. Hold down the 'Motors' button to see what effect your modulations are having!